Single and dual tuned volume coils
for multinuclear imaging and spectroscopy research
Model MNH and MNL: Quadrature single or dual tuned RF coils for X-nuclei studies with removable upper section.
Quadrature RF coil designs are available with either 17 or 27 cm apertures.
Model MNL: The 17 cm coil is designed for applications on the leg
Model MNH: The 27 cm aperture coil is designed for research studies on the brain and brain stem
Additional sizes available on request
These coils are all optimised for multinuclear imaging and spectroscopy and for hyperpolarised MRI research. Nuclei include 31P, 13C and 23Na
Both coil configurations are compatible with PET/MRI. They are designed to limit the attenuation of the gamma rays within the PET scanner field of view. these coils provide:
Excellent quality MR data for both the x-nucleus and 1H applications.
Removable upper section, providing ease of use and good access for head stabilisation
Each channel has independent T/R switch and individual preamplifiers. This ensures the best possible signal to noise ratio for both of the two X-nuclei channels and the two 1H channels.
Available for 3.0 T MR systems from all system manufacturers: Philips (Achieva and Ingenia), Siemens (Trio, Verio, Skyra, Prisma and Vida) and GE (HDx and MR750).
Coil files available for all the latest software releases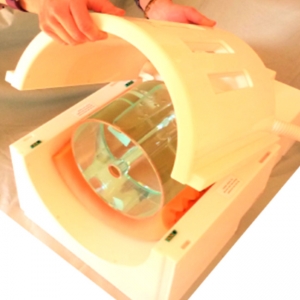 27 cm aperture coil for head MRI and MRS research, showing removable upper section
17 cm aperture coil for MRI and MRS research on the leg. This also has removable upper section.